Step 3: Wireless Midi
2017
---
Wireless MIDI: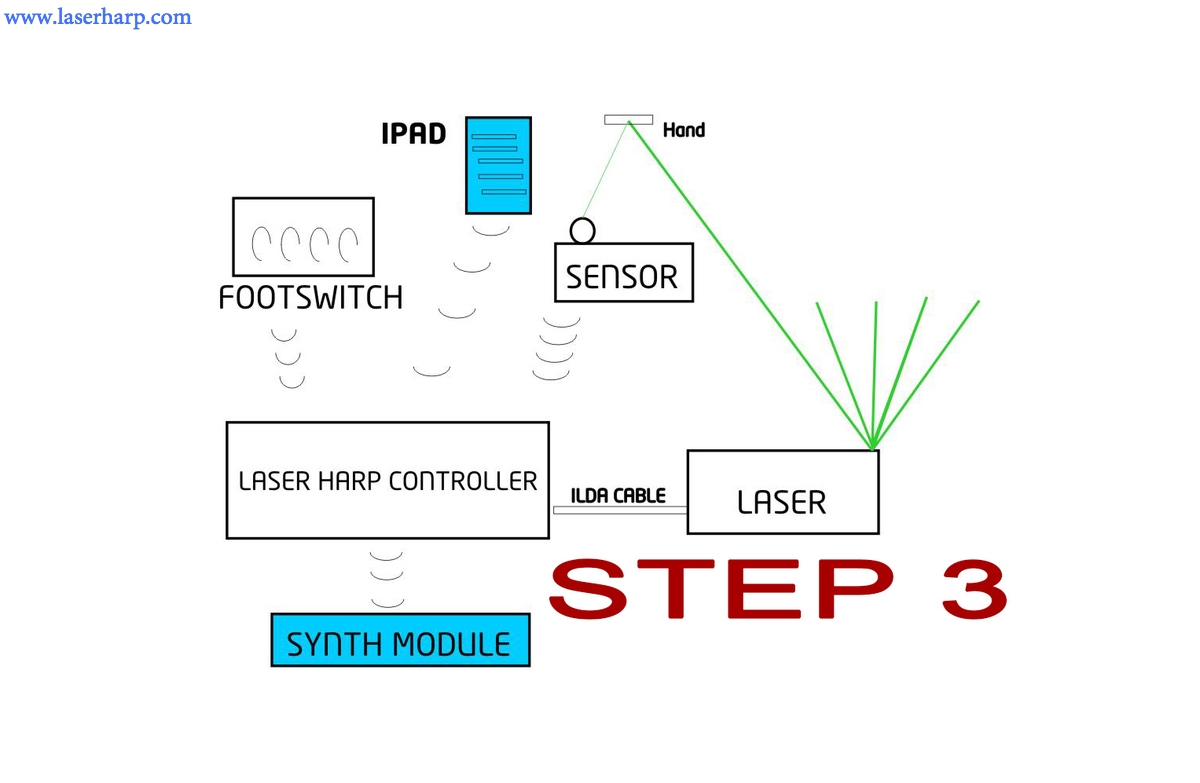 After Apple's Bluetooth MIDI protocol has been implemented on all Apple's devices and windows drivers are available, going wireless with midi is simple!
We thought initially to buy a Bluetooth midi interface, but prices didn't satisfy us.
Searching for "Bluetooth midi" on the eBay website, we found this device called BLUMIDI: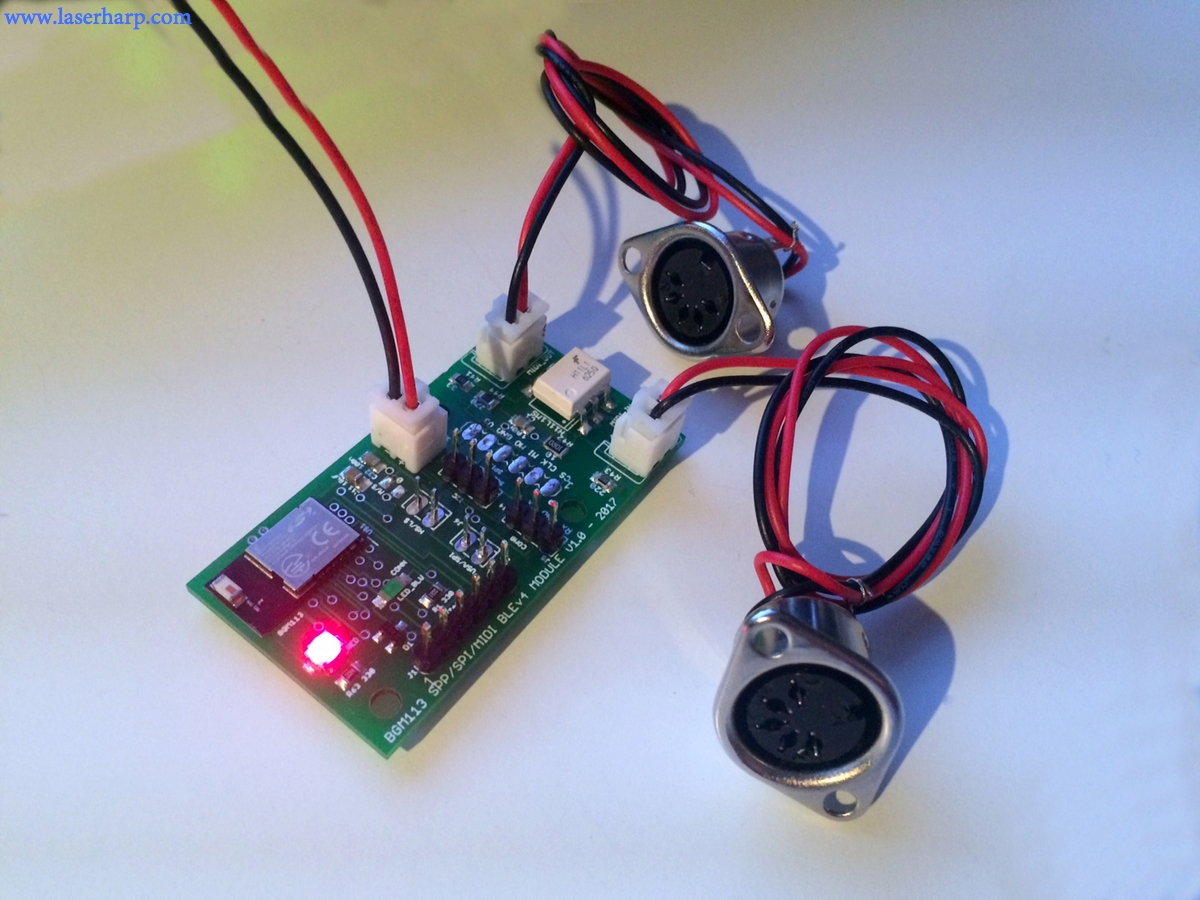 This is a great device for DYI projects. It has a Bluetooth chip and MIDI IN / OUT connectors.
It is cheap (Euro 39) and small, and it can be powered with a couple of 1.5v batteries.
You can solder directly the MIDI connections on the EVO controller and take 3.3v from the Arduino Nano board connected to the EVO controller.
Use this schematics to do that: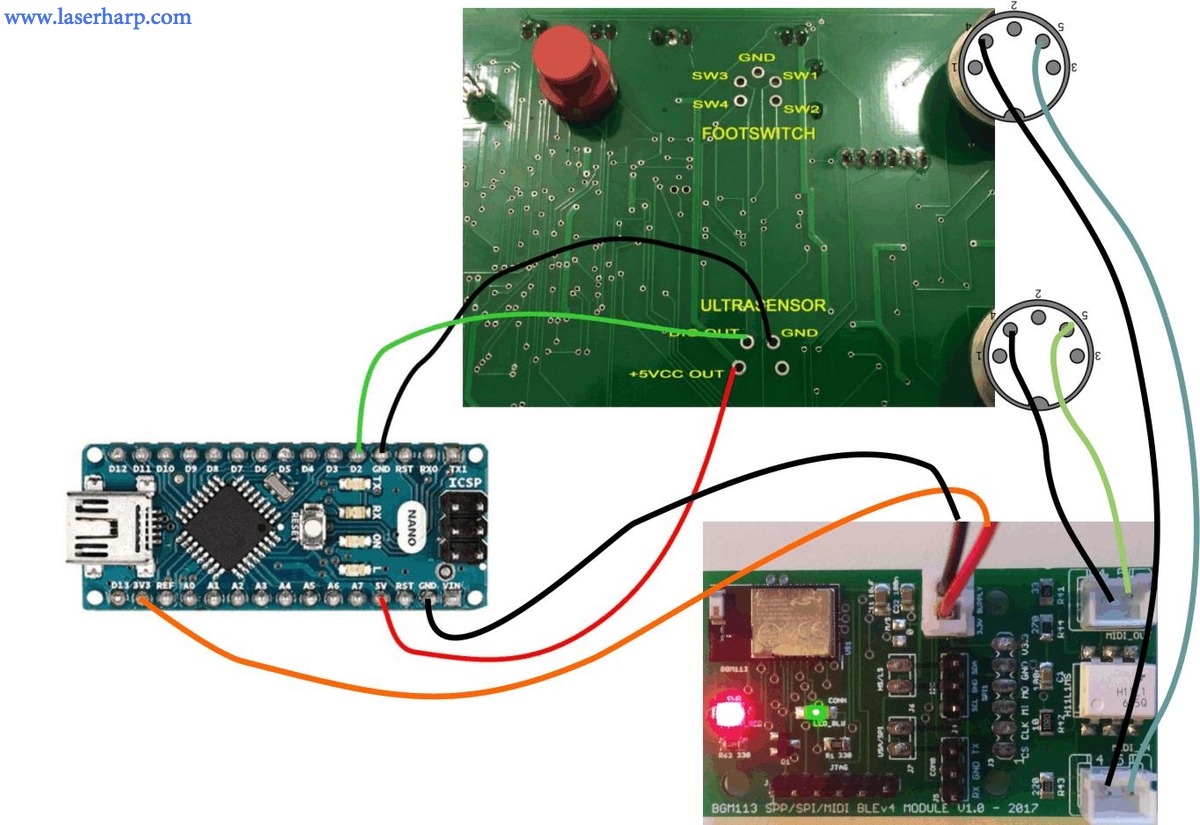 The Arduino Nano you see in this picture is the one you used for the wireless sensor receiver. It is used here only to give 3.3V power to the Blumidi device, it has no other purpose for this part of the project).
Now you finally have a completly wireless laser harp.
Put the EVO controller near your favourite laser harp projector (use eBay to find one suitable for you, take care it has RGB laser at least 1W total, ILDA input and scanning frequency >30kpps)
Who wants to DIY the whole device, our schematics for Bluetooth Midi device, PCB layout and firmware can be downloaded for free here:
Wireless Laser Harp Files
As ever, no commercial use, please, this is an educational project!
Tools needed to DIY the PCB: Eagle Cad (there is a free version online), an J-Link JTAG programmer (less than 40 Euro on Ebay)
Need help in construction? Do you want prebuilt parts?
Contact Us